RMS PABX Interfaces

InfoDEN has both PABX Billing and PABX Controller interface options for RMS.
RMS PABX Call Billing – InfoDEN PABX Call Logger
The InfoDEN PABX Call Logger for RMS is a real-time PABX call logging, costing and exporting application utilising InfoDEN's powerful Telephone Call Costing Engine . Put simply, Logger captures call detail records from a PABX, it costs each call then sends the processed call details to RMS to be posted to the guest account.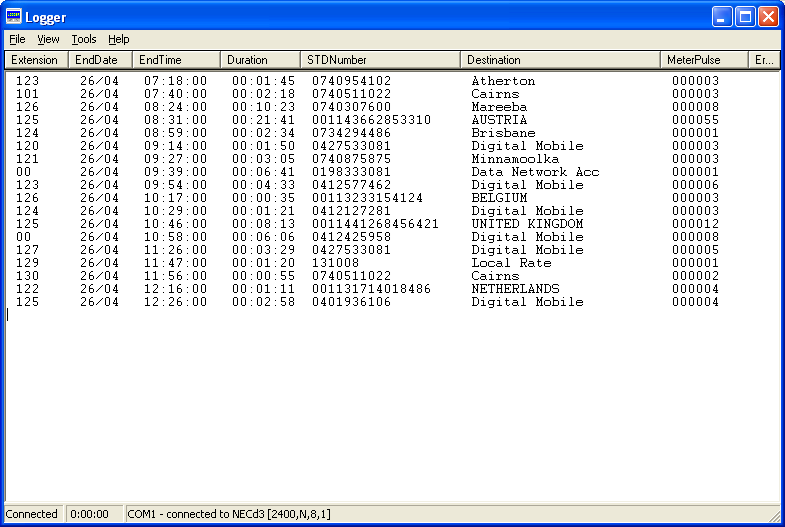 The PABX Call Logger can be quickly configured to support any PABX that outputs its raw data in a single line via Serial, TCP/IP Stream or Text file. The InfoDEN PABX Call Logger for RMS currently interfaces with various models of the following PABX systems:
3CX
Alcatel
Aristel
Asterisk
Avaya
Cisco Call Manager
Ericsson
Fujitsu
HOBIC
Hybrex
LG
Matrix
Mitel
NEC
Nitsuko
Nortel
Omni
Panasonic
Philips
Samsung
Shoretel
Siemens
RMS PABX Controllers – InfoDEN PABX Bi-directional Interfaces
InfoDEN has a range of PABX Bi-directional Interfaces for RMS. These interfaces allow RMS to Activate/Deactivate guest room extensions when guests Check-in/out.
The InfoDEN PABX B-directional interfaces for RMS currently support various models of the following PABX systems:
RMS PABX Interfaces3CX
Alcatel
Aristel
Ericsson
Hybrex
LG
Matrix
Mitel
NEC
Panasonic
Samsung
ShoreTel